Imagine lounging by the pool on a hot, sunny day, getting your tan on, when a group of kids comes running by, knocking over your drink and splashing you with a face-full of water as they jump into the pool. If this has ever been you, EDGE-O-DELLS might be calling your name. Wisconsin's only 21+ resort is located in the Dells and has a Northwoods feel, but it's not your typical family camping destination or waterpark vacation. Think of it more like a summer-long, Vegas-style pool party with an endless supply of Rum Runners, Mai Tais, and DJs laying down the hottest tracks while you sip your cares away.
From April 1 – October 31, the resort is only open to guests 21 and older, so it's perfect for groups like girls or guys getaways, birthday weekends, or just a big summer blowout! Whether you're celebrating someone's big day or just the return of our favorite season, Edge-O-Dells provides the ultimate grown-up getaway experience. Cool off in the pool, lounge in the hot tub, order a drink from the tiki bar, challenge your buddies to a game of sand volleyball, or join the ever-growing dance party by the stage.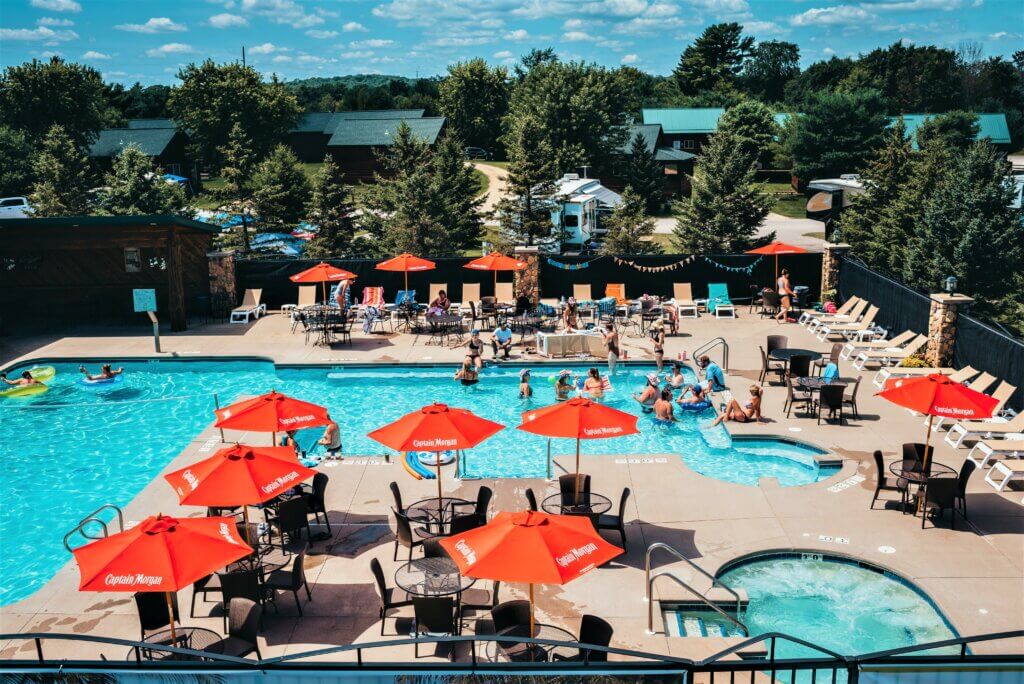 Edge-O-Dells offers a unique experience that you just can't get anywhere else. With a variety of camping options (ie: RV pull-up, luxury cabins), top-notch amenities (pool, hot tub, fire pit, volleyball courts, shower houses, resort store, three bars, and a restaurant), and live music five nights a week, the options for your experience are endless!
In addition to the regular offering of live music from Wednesday through Sunday, Edge-O-Dells also puts on a variety of special events throughout the summer for resort guests. The summer kicks off with Automotion Commotion for Car Show Weekend, and continues with the Customer Appreciation Weekend for Father's Day, Millerpalooza, Country Bash, Ragged Roots and EdgeFest!
And as if that wasn't enough of a party, the Edge-O-Dells restaurant is almost equally exciting – serving up modern bar food with flare. The Jack Daniels Smokehouse burger is among the favorites, made with homemade Jack Daniels BBQ sauce, along with The Sconnie burger topped with fresh Wisconsin cheddar cheese curds! And of course you can't go wrong with the classic Friday Fish Fry. While the resort is 21+ only, the restaurant is open to the public, and families are welcome year-round.
Edge-O-Dells has all that you need and everything you didn't know you wanted. Whether you're planning a weekend getaway, a week-long birthday bash, or a special event spent with fellow beer-lovers, the liveliest, grown-up getaway awaits you at the Edge!