There's no question that there is always a good time to be had in the heart of downtown Wisconsin Dells, but tucked in amongst the candy shops and the retailers of essential Dells trinkets, lies an extra special treat for those seeking a seriously good time. It's the only place in town where an epic battle scene between a larger-than-life King Kong and the Kraken greets you from atop the building! Behold, the WILD FUN ZONE!
A little bit of old school and new school combined into one fun and lively package, the Wild Fun Zone off ers exciting, indoor entertainment for everyone. We recommend that you get your evening started with a mesmerizing, 9-hole round of BLACKLIGHT MINI GOLF – a truly unique take on the classic game. Both putt-putt masters and mini golf novices will be captivated by the vibrantly colored graphics that seem to pop off the walls around you. You've just gotta see it!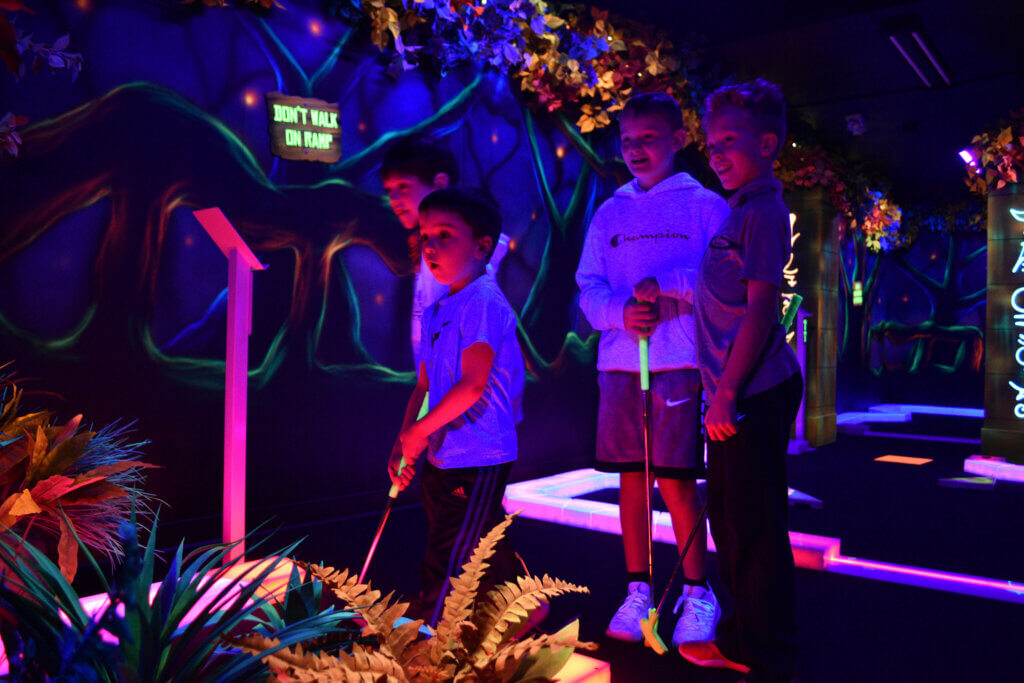 After finishing that eye-popping round of mini golf, it's time for something a little more immersive. You know, something a smidge more competitive that will allow you take revenge on that buddy who ate your last piece of fudge without asking – LASER TAG! That's right! Strap that vest on and grab your weapon of choice because it's time to make him pay (in the safest way possible, of course!) You and your friends will have a blast as you duck, dive and take evasive action to avoid laser-fi re from the opposite team within the blacklight-illuminated arena. Heck, you'll probably even burn off most of the calories from your deep-fried lunch too. It's a win-win!
After the battle, take five and catch your breath by swinging through the ARCADE for some lively video game action. Whether you are a fan of strategic alien combat, zombie attacks, or you have an affinity for racing uber-fast cars, you're sure to find a game that screams, "Let's do this!" It's the perfect way to wind down your visit to the Wild Fun Zone, the largest arcade in downtown Wisconsin Dells. Trust us, you'll be glad you stopped in!